Initiation Of Lahore Smart City
Lahore smart city is the biggest and most sumptuous residential project in Pakistan. Besides this, it is the 5th smart city project in the whole of Asia and in the 2nd position in Pakistan. It is one of Pakistan's finest and most antedated societies. The project is developing great due to its authentic aspects. If you are searching for peaceful and facilitated land for your residence, Lahore smart city gives you the opportunity to live a peaceful lifestyle.
Lahore Smart City will benefit its investors. It will lay out a luxury lifestyle for the public. To get a great habitat you should invest your money in this society without any uncertainty.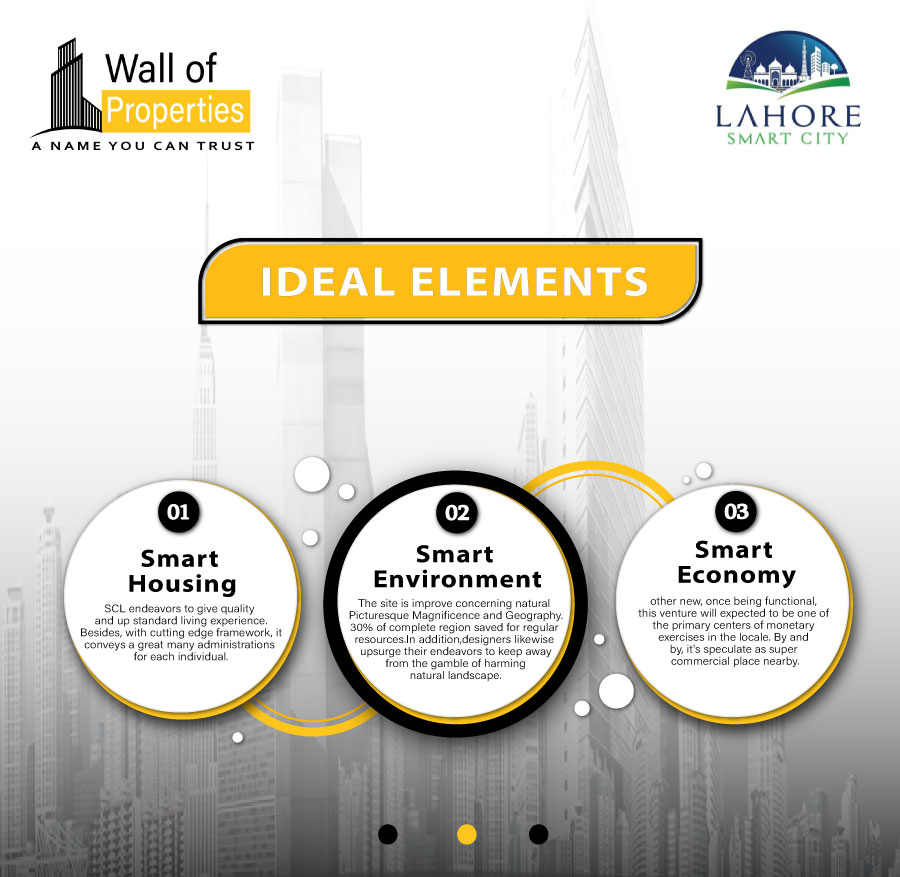 Locality Of Lahore Smart City
Location is a prime factor in any housing society. Lahore smart city is situated in a very feasible location. It is situated close to the Ring Road and GT (Grand Trunk) road, Kala shah Kaku CPEC (China-Pakistan Economic Corridor) path on Lahore's eastern bypass. The developers of Lahore smart city have selected a place that is easily accessible from the entire city.
Nearby Places To Lahore Smart City
Lahore Smart City is located on the Lahore bypass.
2 min drive away from Islamabad
4 min drive away from GT
5 min drive away from Iqbal Garden
6 min drive away from Sialkot Lahore Motorway.
8 min drive away from Hardesohal Muslim Road.
18 min drive away from DHA
19 min drive away from Lahore

Ring Road L-20

.
30 min drive away from

Allama Iqbal International Airport

.
Developers And Owners Of Lahore Smart City
This advanced technology project is made possible by quality name developers. In the development of Lahore Smart City, Future developments Holdings and Habib Rafique limited collaboration with each other. They have quality names as real estate developers. They are very well known in Pakistan for their righteous projects.
Future Developments Holdings (Pvt) Limited
FDHL won the trust of individuals by furnishing them with extravagant and empowering environments. Both in the commercial and residential areas, future development holdings limited apportion individuals with quick living grounds. FDHL is a properly approved and listed profession.
Habib Rafique (Pvt) Limited
Throughout the previous fifty years, they are conspicuous for their victorious ventures. It is the name of the highest-level foundation firm in Pakistan. They made progress in land due to their undaunted loyalty to the client's commitment. They have ended everything in the public eye and made a believed name in land organizations.
Eminent Features Of Lahore Smart City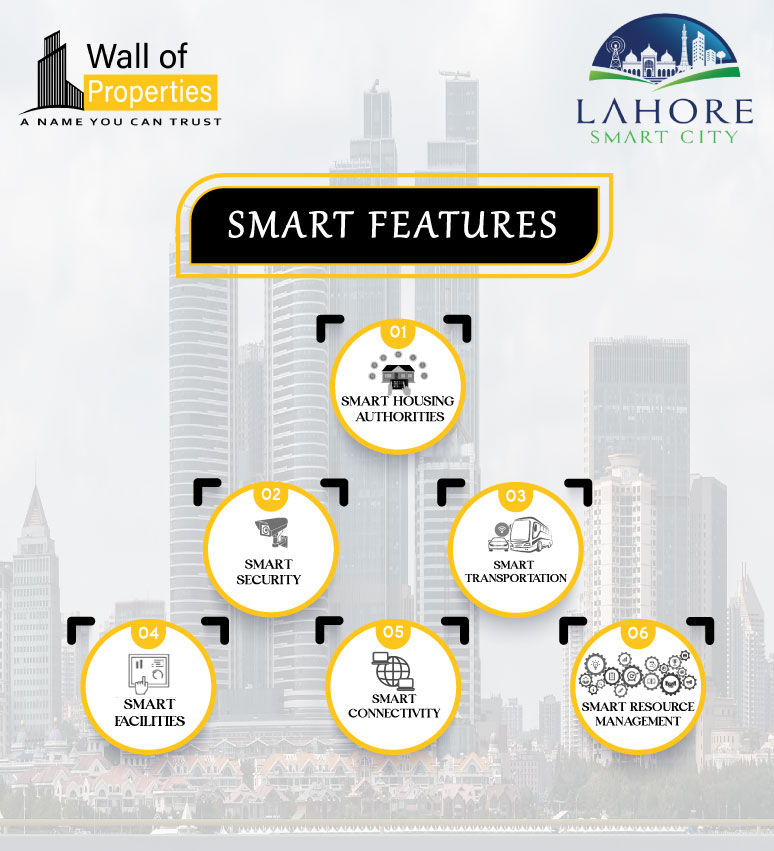 Lahore smart city has inflammatory features. Its radical characteristics are grabbing the attention of investors. It provides its residents with a lot of accessories, a modern living area, and distinctive natural surroundings.
Conservationist adjoining
Actual transport network
Luxuries That Lahore Smart City Is Providing To Its Residents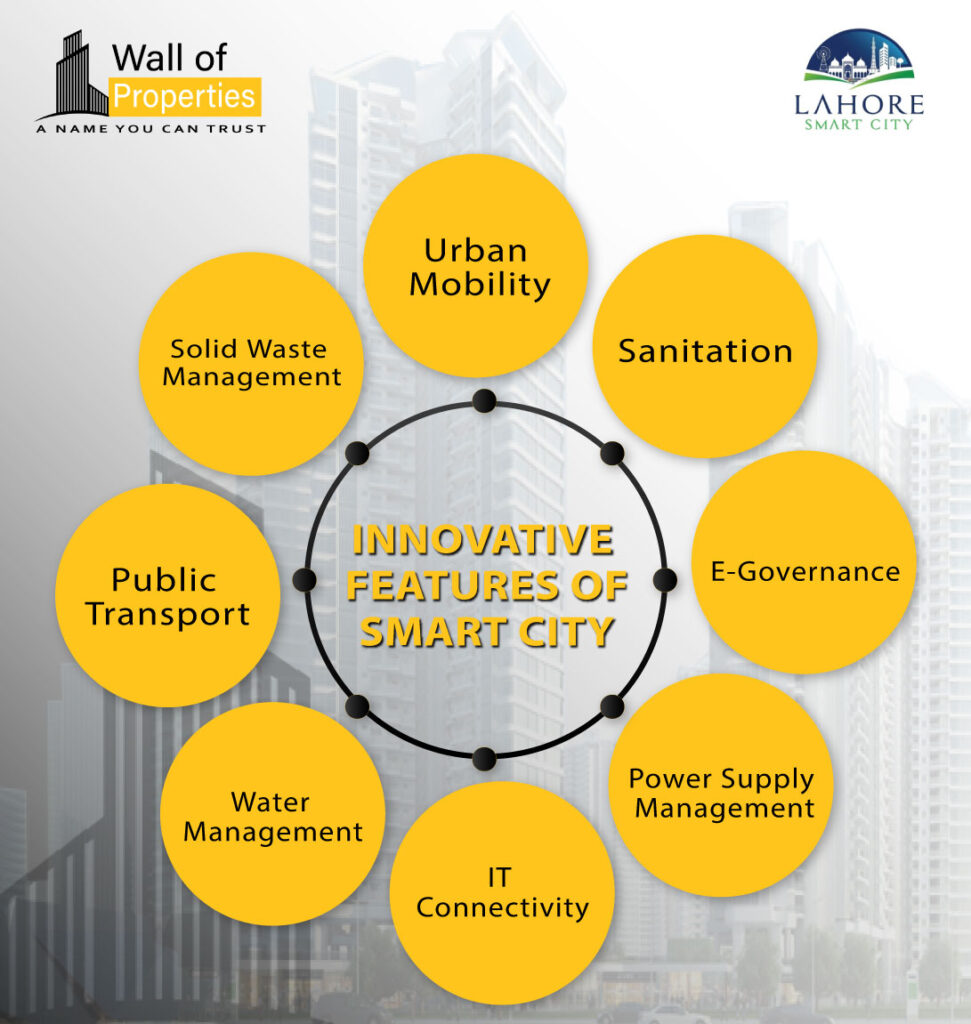 Lahore smart city is providing elegant and fascinating facilities to its investors.
Admonished and wide pavements
Healthcare facilities
A person gets tired after working the whole week and then he wants to change his boring routine by changing his surroundings to remove the fatigue of a week. Lahore Smart City has a very great marshaling for this purpose. It has moderate amusement parks for children as well as for adults. People can spend their rest days in parks to relieve their exhaustion. Lahore Smart City has great
Theme parks
Holiday parks
Rides
Play Area
Where the man lives, everything must be there for his facility. Similarly, along with every need, the healthcare region is also our basic need. A contemporary way of living would be deficient without healthcare favor. For that reason, Lahore Smart City provides residents with the latest facilities.
Hospitals
Dispensaries
Laboratories
Clinics
Green and comprehensible spaces
Jogtrot pathway
Play areas and joy lands
Movie theaters
Swimming pools for children as well as for adults
Grand Jamia Mosque
Being a Muslim, the main thing for any Muslim is to comply with Allah's standards.
Furthermore, in any place we live, it's necessary to have a mosque and mosques will continuously be the focal point of temptation In Muslim regions. Lahore Smart City begins with a mosque to meet the religious convictions of investors and inhabitants.
Farmhouses and magnificent restaurants
RBT stations
International education system
Education Systems in Lahore Smart City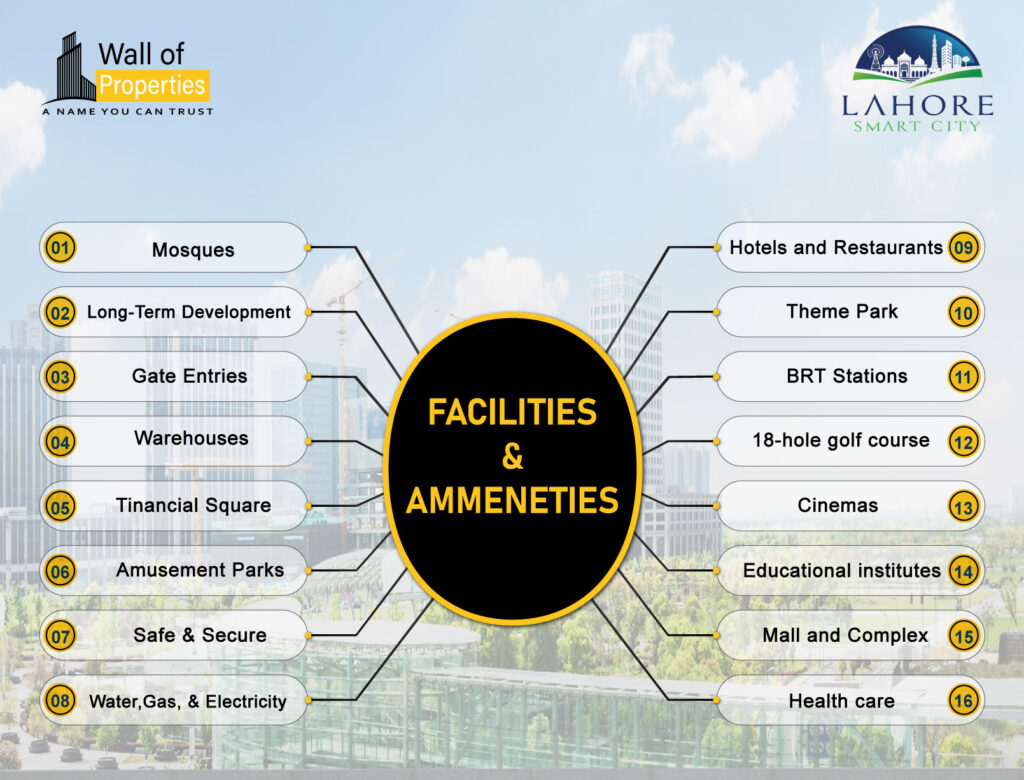 It has become necessary for a person to be educated to lead a sensible life in this era. For this, the existence of educational institutions is very important. To meet the varied education, needs of residents, Lahore Smart City has designed a very high-quality education organization.
Schools
Colleges
Universities
Medical colleges
Parks (Theme parks and Holiday parks)
Shopping Malls
These days shopping is the most famous leisure activity among individuals and this hobby is, for the most part, found among ladies. Lahore Smart City has manufactured unrivaled shopping centers with the goal that each inhabitant can satisfy their craving even on a less financial plan.
Gas and electricity all the time
Sports and gym area
To remain solid and fiery, practice is fundamental. Lahore Smart City has planned a games coterie where it furnishes its occupants with many games fields and athletic clubs.
Cricket and Hockey Arena
Football ground
Colossal hustling defeat
Water distillation plants
NOC (No Objection Certificate) Of Lahore Smart City
NOC is the undisputed proof of any authorized real estate project. NOC validates the permissibility of a trustworthy project. For the authentication of any project, NOC must be approved. To get the people's certainty, the Lahore smart CITY's designers endeavored to procure NOC. Through the utmost struggle of developers of Lahore smart city, they have obtained NOC and also have been approved by LDA (LAHORE DEVELOPMENT AUTHORITY).
Blocks In Lahore Smart City
There are two blocks in Lahore Smart City.
Overseas Block
Executive Block
Both blocks have been designed for investors.
Executive Block in Lahore Smart City
Executive Block is top-notch advancement. It highlights consonance with different lodgings. It is a completely safe region for inhabitants.
Overseas Block in Lahore Smart City
This block is intended for the people who live abroad and need to set aside their savings at a gainful and reliable spot. Lahore Smart City offers a decent open door to the people who are living in abroad They can invest their cash in Lahore Smart City by purchasing a plot and can get a sizeable benefit.
Attainability Of Plots In Lahore Smart City
Lahore Smart City gives its occupants a comprehensive decision with regard to plot size for both commercial and residential shareholders.
Residential investors have more opportunities to pick different classifications because Lahore Smart City offers them a large number of Plots fluctuating from 5 Marla's to 1 Kanal.
Residential plot Sizes
Lahore Smart City offers its investors the to select the desired plot category. A wide range of plot sizes is available for investors.
5 Marla
7 Marla
10 Marla
12 Marla
1 Kanal
Commercial plot Sizes
Lahore Smart City also provides its investors with commercial plots. For people who want to run their businesses, the commercial area has been designed for these people.
The commercial area has various sizes.
On 23rd August 2021, Lahore Smart City launched commercial 4 Marla and 8, Marla.
Lahore Smart City has gotten back with commercial plots. Finally, the wait is finished. Other than the 4 Marla and 8 Marla commercial regions, Lahore Smart City has launched 2.66 Marla and 6, Marla, in response to investor command. Lahore Smart City developers initiated more commercial plot classifications because they got a gigantic victory.
Commercial plots are particularly selected to meet the necessities of business investors.
Announcement Of Possession For Plots In Lahore Smart City
After a lot of struggle and without enough support from customers, Lahore Smart City has announced its possession policy. Those members who settle up with their 100% payment are elite to take possession of Plots with their desire. They are eligible to start the construction of the plot within 3 months.
After that, who is eligible to take possession of Plots?
The members who have paid 40% or 50% down payment are also able to take possession of their plots.
Total Land That Lahore Smart City Has
Lahore Smart City has almost 20,000 Kanal areas.
 10% rebate will give to the clients in case of full payment at the time of booking if they pay half of the total amount, they will receive a 5% rebate.
Charges Of Prime Location
By paying 10% extra charges, clients can conserve a plot at a prime location.
Prime location includes
Facing Park
Main Road
Corner plot
By paying 15% extra, investors can obtain a plot on the main boulevard.
You can pay your down payment in the following ways
Payment in the form of cash
Direct transfer to society's official account
Pay order
Documents Required For The Booking Of The Plot
2 CNIC copies of an applicant
A CNIC copy of the applicant's inheritor
2 passport size pictures of an applicant
Fresh bank statements
Booking starts with a 10% down payment. 10% confirmation charges will be payable after 1 month. The remaining amount will be payable in the form of Installments within 3 years.
General Terms And Conditions
Prices are exclusive of taxes and government dues.
Prices are exclusive of development charges.
Installments are required to be deposited by the 1st of each Installment month.